Hi
I have been adding PBR ground textures to a freeware scenery I develop. The general effect is more interesting than specular, but I find I must abandon it for now as the PBR seems to create very jagged shadow cast on it. AI aircraft for example, and the jagged nature makes for a flickering effect when moving.
I did some test taking the groundplane back to basic. Below are two shots of a plane with a diffuse, no texture. You can see how much more jagged the PBR version shadow is.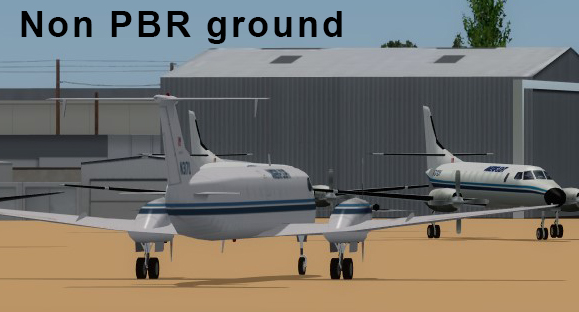 This is with P3dv4.5, default shaders.
I have tried all combinations of setting, in creating the bgl, and in the sim.
It happens on stock install on development machine (zero add-ons) and on my simming machine with various add-ons.
Nvidia 750 GTX on development machine
Nvidia 1080 Ti on sim machine.
Any solutions, apart from not using pbr ground?